Naming an RV? Well, why not?
Having a funny name for an RV reflects a sense of humor and shows pride in your lifestyle. A fun and creative name is a good way to give your vehicle character and make it a part of your family. So, if you are looking for funny names, we have compiled a list of RV names to choose from. Let us know which one you would pick.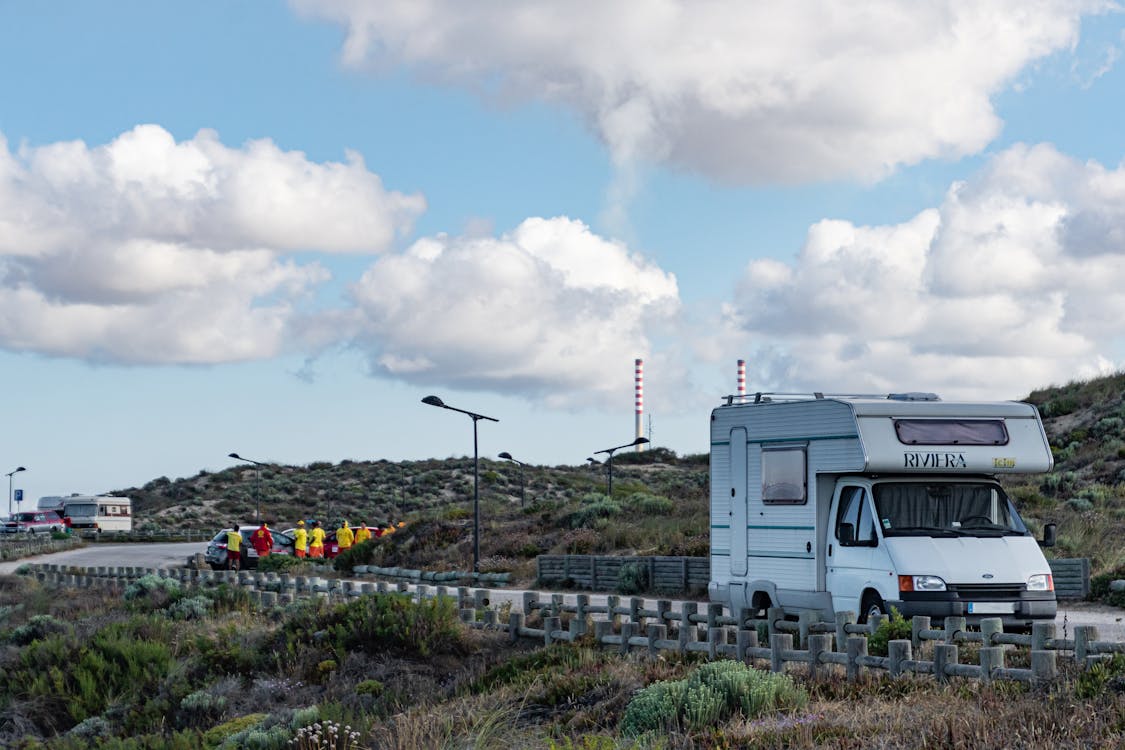 [Source]
Do RV Owners Name Their Rig?
Well, it's relatively common in the RV community. You might have seen people posting their RV pictures with a name assigned to them. It is human nature to name things, and many reasons exist.
A Sense Of Connection
There is a strong basis for this in psychology. Since humans are social beings, they want to name things to feel more connected. This is why people always give special names to their well-loved belongings. 
A Sense Of Control
Another argument in psychology for naming things that bring us joy and comfort is holding claim over them. Humans long for connection and to tame things. Naming a thing will mean that you have control over it, and it will respond when called. So, an RV is like other vehicles until you name it and develop a connection.  
Practical
Well, it is not only about connection; naming your vehicle is also practical. It makes sense to give your vehicles distinct names to differentiate between similar ones. For example, "Remember that trip with Bago and the other with Winnie."
It's Creative And Also Fun
Besides all these arguments, naming an RV is simply fun. You can give your vehicle a name just because it amuses you. Also, you get to show some creativity, which can help you make friends at the campground. 
How To Choose Funny RV Names?
Like naming a child or pet, choosing a name for your RV can be challenging. So, if you are having trouble picking the name, here are some tips and tricks to help you create the perfect name.
Use Funny Words
Believe it or not, every camper is a fan of funny names. Not only it helps you to reflect your sense of humor, but it also amuses others on the road. A rig driving by your RV, the driver sees the name and laughs at it. This could be a source of entertainment while being on the road for hours. 
Combine Word Types
Make a quick grammar overview and create the perfect name for your RV. You can combine different words, for example, funny adjectives and nouns, to develop a good name. Combining words can help you come up with a high-quality name that will give an identity to your favorite RV.
Puns Or Alliterations
Show your personality with a funny game for your RV. A good way to do this is by using a pun or alliteration. A pun is a play on words or a joke that can be sarcastic. It has words with more than one meaning and sound, for example, "RV there yet?".
Another choice for names can be using repetitive words with the same letter. This is known as alliteration, which can help create an easy-flowing and smooth name for your vehicle. 
Choose A Temporary Name
Don't be afraid to change your RV's name after some time. You can pick a temporary name; if you don't like it afterward or get a more fitting name, it's alright to change it. It's your vehicle; you can assign it whatever name you want.
Types Of RV Names
Once you start making camper friends, you will get to know that there are different types of RV names. Here are some of the most common types of names that would come across on the road. 
Abbreviated RV Names
Some people use abbreviations or meaningful phrases for their vehicles. This is a great way to describe the rig or adventures in short words. Though it suits some people or not, abbreviated names help keep it short and sweet. 
Humorous RV Names
One of the most common types of RV names is humorous RV names. You would get to meet many humorous people on the road, and the wittiness is also shown in their rig's names. Some use hilarious and off-the-wall names that can work as icebreakers while getting along with new people. 
Sentimental RV Names
Contrary to humor, there is also an option for sentimental RV names. Such names are a great way to show gratitude towards a special moment or adventure in an RV owner's life. Also, they help you always remember what is important and beloved to you and your family. 
Professional RV Names
Some RV owners prefer to keep it professional while naming their rigs. A professional name for your RV is appropriate if you plan to start a YouTube channel and share your experiences with the audience. It gives a polished image to your profile, and you will not have any issues creating paid partnerships and growing your business. 
Funny RV Names
Though we have tried our best to make things easier for you with these tips and tricks, some of you might still need examples. 
Empty Nest

Sleepy Doo

Caravan Fever

Doin' it-our-way

The rolling palace

AdVANture

Cousin Eddie

Bea the RV

Cara Van

Flo

Five Star Hotel

The Map Trap

Highway Patrol

Cabin Fever

Retirement Vehicle

Early Retirement

It's Drive O'Clock Somewhere

Take a Load Off

Tow Big

The Kid's College Fund

Waltzing Matilda

No-lookin back

Cheering it on

Jean-Claude-Van-Dam

Adventure before dementia

Rest for a while

Movin' and Groovin'

Groovin' Along

Backroads Betsy

Beige Betty

Chateau on the Go

FreeDa

Dora

Class C (pronounced Classy)

Homer

Hauly

Friday

Fun Finder

Landlubber

FreeWilly

Hot Wheels

Wander Woman

Seemore

Sleepy Doo
Character RV Names
Marvel

Miss Adventures

Miss Bee Haven

Romeo Victor 

RV Maria

RVsaurus

Mile Marker

MineRVa

Miss AmeriCamper

Miss Daisy

The Beast

The Long Haul

The Rolling Turd 

The COW (abbreviated for Condo on Wheels)

The Dude

The Dog House

The Fuel Eater

The Mosquito

The DeLorean

The Highway Diva

The Mother Ship

The Pong Express

The Party Wagon

The Rollin Inn

The Tank

The Skipper

The Black Pearl

The Adventure Wagon

The Wayfarer

The Ship

The Road Runner

The White Whale

The Runaway

Van Morrison

Touring Tina

Van Halen

Van Wilder

The Weekend Warrior
Cute RV Names
If you prefer cute names over funny ones, here are some options for inspiration.
CoCo the Coach

Desert Rose

Edna

Felix

Atlas

Acron

Bear

Birdie

Queen Bee

Redhead

Happy Camper

Sweet dreams

Carefree RV

Pink Flamingo

Bubbles

Bessie

Faith

Fannie

Dusty

Drifter

Firefly

Joy

Goldie

Gidget

Holly

Herbie

Heidi

Hotel

Home Sweet RV

Lulu

Lucy

Lucky

Myrtle

Love Shack

Hotel (add your last name)

Just Hitched

Old Faithful

Pearl

Parker

Our Little Lemon

Piper

Pure Bliss

Ruby

Penelope

Scout

Queenie

Rosie

Roamer

Stella

Sunny

Sun Chaser

Skipper

Sightseer

Switchback

Willow

Wanda

Voyager
Hippie RV Names
Those who like the Hippie lifestyle will prefer to choose a hippie name for the RV.
Jerry

Rainbow

Serenity

Boogie Mobile

Flower Child

Bohemian Betty

Spirit

Karma

Ziggy Stardust

Soulshine

Joplin

Joni

Hippie Chick

Free Spirit
Original RV Names To Get An Idea
There are some original names collected to give you a hint about the name of your RV.
Goodbye

United States of a Caravan

It's our dream

YOLO

Born Free

Rarely Inn

Home Sweet Home

Follow your dreams

The Last Resort

Sea-breeze

Mansion on the road

Fun in the Sun

I will see you there  
Cool RV Names
Give your RV a cool name to make an impact on the road.
Golden God

Glampers United

The Party Bus

Brave New World

Tourists in Transit

Thrill Seeker

Dusty Roads

The Journey

Freedom Chariot

Alpine Express

Mountain View

The Twilight Chaser

Adventure Awaits

Mountaineering Machine

The Scenic Route 
Name Your RV After A Song Or Pop Culture
Titanic

Monty Python

The Batmobile

Magic School Bus

Gossip Girl

Robin Hood

Reservoir Dog

Keeping up with X (your first or last name)

Cuckoo's Nest

Layla

Blue Sky

One Love

Riders on the Storm

Ride Sally Ride

Road to Nowhere

Hey Jude

Sweet Caroline

Heartbreaker Hotel

Brown Eyed Girl

One Love
Names By Brands
You can also consider naming your RV by the brand it comes from. Below mentioned are some common examples.
Airstream RV names
Iron Maiden

The Tin Inn

The toaster

Daystreamer

Al Uminium

Apollo

Annie
Grand Design RV Names
John Lennon

The Loner

GD RV
Keystone RV Names
The Rolling Stone

Kitty

Key to my Heart

Stone Cold Fox
Coachman RV Names
Coach Nomad

Coco

The Road Coach

Coachella

Coach Wander
Jayco RV Names
Jacob

Jay

Taking Flight

Eagle's Nest

Jaybird
Bottom Line
Creating a unique RV name is fun and develops a sense of connection with your vehicle. Also, it is fine to hit the road without a name as long as you enjoy the adventure. You will come up with the right name after spending some time using the RV. Hopefully, this guide has helped you find the perfect name for your rig. 
Have Fun!
I love crispy fried chicken, jogging, brisk walk, and I do sleep tight at night.