Picnic tables come in various sizes and dimensions, depending on the number of people it is meant to seat and the intended use.
You've probably experienced a usual inconvenience that pops up now and then while having a picnic, and that problem is the small size of the picnic table. When the table can't fit everything, another table must be added. 
This article will discuss some important things involving picnic tables and how to get the right size and material for you. We hope that by the end of this article, you'll have the perfect picnic table!
Understanding Dimensions Of A Picnic Table
Picnic table dimensions refer to the size and shape of the tabletop and seat, including the length, width, and height. These dimensions determine the seating capacity and comfort level of the picnic table. 
The standard size of a picnic table typically ranges from 6 to 8 feet long, with a height of 30 inches, providing ample space for seating and eating.
The dimensions of a picnic table can affect its general functionality and the number of people who can comfortably use it. Some picnic tables are designed with adjustable dimensions, allowing the user to change the height or length according to their needs.
Picnic tables come in different shapes, such as rectangular, round, and hexagonal, each with its own set of dimensions that dictate their use and functionality. 
At the end of the day, it all depends on your needs. You can choose a standard picnic table and get a special one made. The latter will, of course, cost much more than a default design.
How To Pick the Right Picnic Table?
The variations available in different kinds of picnic tables are massive. 
Choosing the right picnic table requires considering several factors, including seating capacity, intended use, material, size, shape, space, and budget. To accommodate everyone comfortably, determine the number of people using the picnic table and choose a size that fits the group. Consider the purpose of the picnic table, such as outdoor dining or recreational activities, or as a permanent fixture in a park or backyard, and choose a durable, weather-resistant, and easy to maintain, such as wood or metal, or plastic. Select a style that complements your outdoor décor and measure the area where the picnic table will be placed to ensure it fits comfortably without crowding the space. Determine a budget and choose a picnic table that meets your needs and enhances your outdoor living space while staying within your budget.
Is it possible to get a picnic which ticks all the boxes? Let us determine the factor you need to keep in mind when picking the right picnic table.
Purpose
Consider the intended use of the picnic table, such as for outdoor dining, recreational activities, or as a permanent fixture in a park or backyard.
People It Will Seat
The first thing to know is how many people your table will be seating. If you're someone who frequently has picnics and cookouts, you'll probably have a lot of people over most of the time. So instead of having individual chairs for every single person, it is better to have a single picnic table that can accommodate everyone comfortably. A large enough table for everyone will be less hassle for you, and everyone will be able to get together in a single area. It's like striking two birds with a single stone.
The Available Space
Next, you should know how much space you have at your disposal. Make do with the space you have available, and don't put a large picnic table in a small area or vice versa. For example, placing a large picnic table in an area that can barely fit two chairs will be too crowded. Adjust the table according to your area because once you fit a table on that spot with the perfect size, you'll immediately see how nice the table will look.
Material Used
Choose a durable, weather-resistant material, and easy to maintain, such as wood, metal, or plastic. This, perhaps, is the most important aspect of choosing a picnic table. As your picnic table will be placed outside, the table's material will be impacted by the weather and related conditions. For example, if your table is made of metal, it'll be cold in the winter. Similarly, it will be impossible to sit in the summer if it is in direct sunlight. Metal picnic tables are much more durable than wooden tables but be mindful of their rusting problem because that can be a real problem.
The best option for you is to go with a wooden picnic table. These tables are made from lumber treated with pressure and resistant to insect damage and drought. Plus, wooden picnic tables are typical for picnics and are usually the go-to option for most buyers.
Lastly, a dark horse is in the picnic table category: plastic picnic tables. Apart from being the most affordable option of the three, plastic tables are super easy to clean and maintain. Unlike wooden tables, they do not require sanding. These are also lightweight so they can be moved from one spot to another in no time. One problem, however, is that these tables can develop cracks with the passage of time.
Style, Shape, And Size
select a style that complements your outdoor decor, such as a traditional, rustic, or modern design.
Furthermore, the most common shape for picnic tables is rectangular size. These tables are able to seat almost eight to ten people, more if there are kids. With all the people seated, the next thing which comes to the table is picnic supplies such as plates, trays, utensils, bottles, and containers.
Also, you can always get a round picnic table if you are short on space. These tables cater to about six people. But if you want something in the middle of the round and square tables, you also have the option of octagonal-shaped tables, which can seat about eight people. 
Budget
Determine a budget and choose a picnic table that meets your needs while staying within your budget.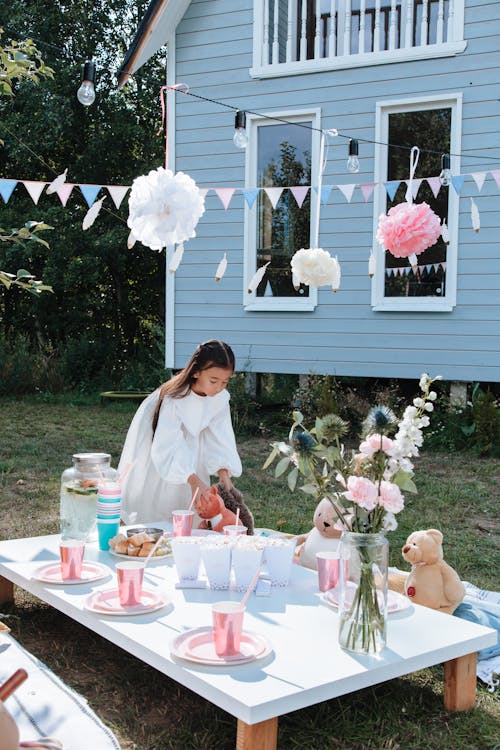 The Right Dimensions
The standard size of a picnic table is 79 inches in width, a depth of 59 inches, and a height of 30 inches. But this is just the standard, and not all tables need to have these dimensions to fulfill the criteria of being a picnic table. Let us look at some default sizes of picnic tables and see what their dimensions are:
A-Frame Table
A picnic table built on an A-frame is so neat in its design that you'll find it in a lot of places. Even in non-picnic spots, these tables are very common. The A-frame table has a length of 72 inches, a width of 32 inches, and a height of 30 inches. The seats attached to this table are also about 16 to 18 inches. These tables are great if you want to look at everyone who's a part of the picnic without moving your neck in awkward directions.
Rectangle Table
As mentioned earlier, a rectangular picnic table is the most common shape, and its dimensions are ideal for families and small groups. These tables have a length of 6 to 8 feet. Even though their width is pretty variable, it is usually 30 inches wide. Then you have the height of this table which is anything inside 30 inches. The seats are about 16 inches tall.
As for the number of people who can sit at this table, that would be around 10. But 8 people can sit comfortably on this if we're talking about more space and less congestion. So if your family is large and you're looking for something to fit all of them on one table, then this table will do the trick. 
Round Table
Round picnic tables are perfect for a more intimate setting, providing easy access for all users. A round table can be anywhere about 8 feet long. The seats of this table are about 17 feet long, while the table comes at a width of 30 inches. A nice part about these tables is that they might also have a hole in their center since they are round. Here you can fit anything you like; it could be an umbrella, a scented candle, or a bowl containing your favorite chocolate. If you get this opportunity, then be as creative as you can!
If you're looking to add style to your outdoor ambiance or patio, a round table will look lovely! Get a good table cover that goes with your outdoor scenery, and you'll be the host for all the picnics!
Hexagonal Table
These tables are popular for outdoor dining and recreation, especially for large groups. The hexagonal shape provides ample seating space, and the table's unique design offers a more social and interactive experience for its users. These tables are typically larger than rectangular picnic tables, and their dimensions can range from 6 to 8 feet in diameter. The table height is usually between 28 to 32 inches, providing a comfortable seating height for adults and children.
The design of hexagonal picnic tables often includes umbrella holes, allowing users to protect themselves from the sun while they enjoy their meals or socialize. Some tables also have built-in seating and storage, providing an all-in-one solution for outdoor dining and recreation.
Final Thoughts
By now, you probably know which kind of picnic table is the best one to buy. A table that caters to your needs and accommodates all your guests is the table you should look for. Build, size, the number of seats, and the space available are things you must keep in mind while purchasing one. Whether you're looking for a picnic table for a park, school, or camping site, understanding the different dimensions and features available will help you make an informed decision.
I love crispy fried chicken, jogging, brisk walk, and I do sleep tight at night.