The RV Remodel lifestyle is growing in popularity as more and more people desire to own their RV and have the freedom to travel and explore. A trend within the RV community is to renovate and customize their vehicles to make them practical and comfortable houses on wheels. 
Many are opting for the DIY approach of buying a cheaper RV and remodeling it themselves as a cost-effective alternative to buying a new one. However, it's important to note that renovating an RV involves expenses, such as tools, materials, and the time, skills, and labor required.
How Much Would It Cost To Remodel A Camper?
The cost of remodeling an RV can vary greatly, as there are many types of RVs you can select, such as Class A RVs or travel trailers. The cost will also depend on various factors, such as the type of RV, the materials used, and the level of customization. Renovations can range from a few hundred dollars to thousands of dollars.
We will break down these factors to give you a better understanding of the expenses involved in the process.
Things Of Consideration For Rv Remodel
Before beginning an RV renovation, it's crucial to consider various aspects impacting the cost and expenses to ensure proper preparation and decision-making.
Cost Of Labor
Will you undertake the task yourself, or will you call someone with the necessary expertise? The DIY option is typically less expensive as it eliminates the cost of labor, but it requires appropriate skills or taking the time to educate yourself thoroughly throughout the process.
Time Factor
The duration of a renovation project can vary greatly depending on the approach taken. Hiring a professional will typically result in faster completion due to their experience. On the other hand, if you opt for a DIY approach, the pace will be determined by your availability and the care taken to avoid errors.
Availability Of Needed Material
To successfully remodel a camper, you will need various materials and components depending on the scope of the project and desired outcome. To save money, consider purchasing items in bulk from cost-effective retailers or checking if you already have any relevant supplies.
Required Renovation
The cost and effort required for RV renovations vary greatly depending on the vehicle's current condition and the desired result. Consider the condition of the RV before starting, and have a clear vision for the outcome to determine the necessary expenses and level of work required.
Select A Perfect Vehicle (RV) Of Your Choice And Remodel It
With the cost being a factor, another important aspect to consider when selecting the ideal RV for you is the type of vehicle. There are various options available. Here are some examples:
Features Of  Tent Trailers
Tent trailers are a form of travel trailer, also known as pop-up tent trailers. So, you would connect the tent trailer to your truck or SUV and tow the trailer behind you rather than driving the trailer itself.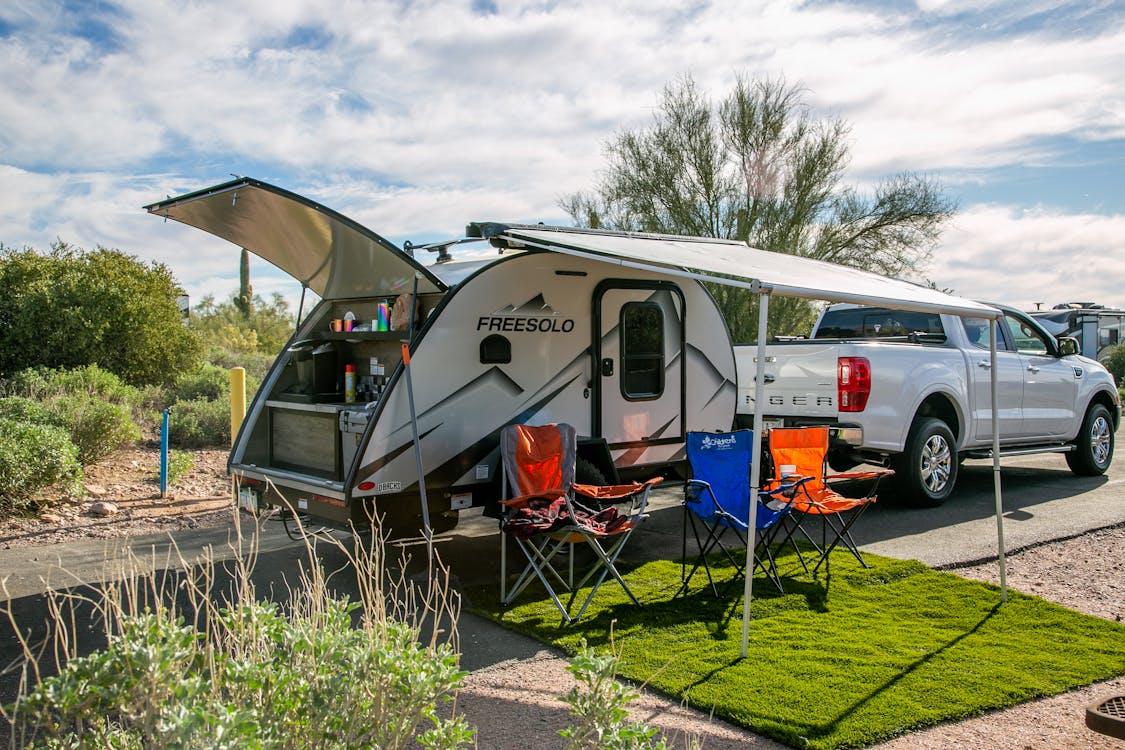 These trailers are typically small in size and offer basic amenities such as a kitchen area with a dinette and one or two beds. However, they may lack certain luxuries like a shower or toilet. They usually have a stovetop for cooking and can accommodate a small refrigerator.
The tent trailers have windows or screens that allow passengers to enjoy the view and provide good ventilation to prevent mold growth. The name "tent trailer" comes from the large retractable tent made of canvas that can withstand wind, rain, and little snow.
Travel Trailers With A Hard Side: Features
If you're looking for something more substantial than a tent trailer, a hard-side travel trailer may be the right fit. These trailers offer the same space as larger travel trailers but with the added protection of hard sides, making them suitable for long road trips and harsh weather.
The entry door of a hard-side travel trailer is typically larger, and the angular and pointed design allows for more windows. Inside, you'll find ample space for luxuries such as a dinette, a kitchen, a cooking space, a refrigerator, and a freezer. 
There's more space for beds, and you may have more bathing options with a hard-side travel trailer than a tent trailer. These trailers often have space for either a toilet or a shower, but not both, unless you opt for the larger floor plans.
Features Of Fifth-Wheel Trailers
The fifth-wheel trailer is a type of travel trailer characterized by its multiple levels and large size, measuring up to 40 feet in length. It is also known for being the most expensive type of travel trailer. This type of trailer can comfortably accommodate up to six passengers and must be attached to a pickup truck using a fifth-wheel hitch. However, there are also lighter models that can be pulled by smaller vehicles.
Fifth-wheel trailers have several features that make them ideal for living on the road. They have multiple picture windows providing great views and slide-outs that can expand the living space up to three feet. Additionally, they come with ample storage space, entertainment options, and various cooking and bathing amenities. Expect to find a toilet, a shower, and multiple beds in your fifth-wheel trailer.
Features Of Class A Motorhomes
Motorhomes are the largest type of recreational vehicle. They come in three classes: Class A, B, and C, with Class A being the largest and heaviest. These RVs have ample space for passengers and relaxation, with some models measuring up to 45 feet in length. 
If you're planning a road trip with a group of people, a Class A motorhome may be the ideal choice, offering enough room and privacy for everyone. However, it's worth noting that these RVs typically don't have individual beds for each passenger but larger beds such as king sizes and possibly bunk beds for kids.
Features Of Class B Motorhomes
Class B motorhomes are the most lightweight of all the motorhome models. They are similar in size to large travel trailers but offer the added security of a motorhome. These vehicles are suitable for couples or small groups but may be cramped for larger parties. They typically have a single queen-sized or king-sized bed and a pull-out couch. 
However, they have limited space for bunk beds, storage, and windows, and the kitchen and bathroom may be smaller. Additionally, they may not have as many windows, so that views may be limited. Lighter packing is advised to make up for the limited storage space.
Features Of Class C Motorhomes
Class C motorhomes are often considered the middle ground between Class A and Class B motorhomes. They are typically more expensive than Class B motorhomes and travel trailers but less expensive than Class A motorhomes. They usually cost around six figures or just under.
These motorhomes typically have less space than Class A, but they may feature an overhead bed and a second bed in the bedroom area. The overhead bed can be converted into a living room, office, or any other type of space to make the RV feel less cramped.
Driving a Class C motorhome is generally easier than a Class A motorhome because they are lighter. They often have decent storage space and a couple of windows, but less than Class A motorhomes.
Some Remodeling examples With The Costs From The Real World
Vintage Century Travel Trailer, 1957
Visit Sarah's blog named "All Things With Purpose" for a detailed look at the remodeling of a Travel trailer. Discover the cost and process, and see pictures of the transformation. Originally purchased for $1700, Sarah took on the project of repairing and remodeling the interior herself. The total renovation cost was $2940, and after completion, Sarah successfully sold the trailer for a profit.
Renovation Of Country Coach 1999
If you're interested in seeing a comprehensive renovation of a 1999 Country Coach, check out the RV Love website by Julie and March. Some changes they made include installing LED lighting, renovating the kitchen as well as the living room, luxury vinyl planking, and adding extra   workspace in the driver's cockpit. The renovation was $12,000, but the outcome was worth the expense.
Remodeling Of 5th Wheel Interior
If you're looking for inspiration for your RV renovation, check out Chikery's Travels blog, run by Julie. She provides complete details of the interior renovation and remodeling of a 5th wheel, including costs. 
Although the renovation wasn't extensive, the before and after results are impressive and provide a good idea of what's possible. The cost of replacing the interior furniture was $1955, and the total cost of remodeling the living room and kitchen came to $2542.
Renovation of Monaco Windsor 2004
If you're interested in RV remodeling, explore the Exploring website for details on the renovation that Kevin and Leanne completed. They explain it as a costly upgrade that took seven weeks to complete, and there are plenty of pictures to compare. 
Some changes they made included technological advancement, fixing the plumbing system, newing the kitchen counters, and overall renovation of the appearance. They also added new lighting, new floors, and fresh paint. The amount of the remodeling was $27,021, but it was worth it for the impressive results.
Conclusion
Revamping an RV can be a rewarding project that turns an old vehicle into a custom-designed house on wheels. The renovation cost will vary based on factors such as the project's scope, the RV's current condition, and whether you already have the necessary tools and materials. It will also depend on whether you hire professionals or take a DIY approach. 
To estimate the costs, it is recommended to look at online resources and examples for guidance and to plan accordingly. Depending on the condition and extent of the renovation, costs can range from a few hundred to thousands of dollars.
I love crispy fried chicken, jogging, brisk walk, and I do sleep tight at night.